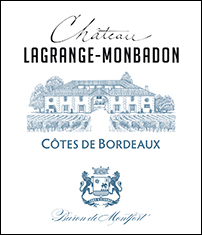 Huddling at the feet of the feudal castle of Monbadon, Château Lagrange Monbadon can be found at Monbadon-Puisseguin, 40 kilometers from Bordeaux.
Next to the village church, built in the 11th century , the vineyard of 30 hectares benefits from a clay and limestone soil where a ferruginous subsoil gives colourful wine with softness and flavor.
This wine can be enjoyed now, or age in your cellar, and will be perfect with starters and white meats.
Recent Awards :
Revue du Vin de France June 2005, chapter « Nous avons aimé », for the vintage 2004
Guide Hachette des Vins 2009 (1 star) for the vintage 2005
Guide Dussert-Gerber des Vins 2011 for the vintage 2006
Guide Dussert-Gerber des Vins 2012 for the vintage 2009
Guide des Vins Gilbert & Gaillard 2011 for the vintage 2005
Guide des Vins Gilbert & Gaillard 2012 for the vintage 2006
Decanter « Commended » Award 2010 for the vintage 2008
Decanter « Commended » Award 2011 for the vintage 2009
Decanter « Commended » Award 2012 for the vintage 2010
Silver Medal for the vintage 2006 – Concours de Bordeaux – Vins d'Aquitaine 2009
Silver Medal for the vintage 2006 – Concours des Grands Vins de France Mâcon 2009
Silver Medal for the vintage 2011 – Concours National des vins bio Amphore 2012
| | |
| --- | --- |
| This estate is under organic conversion phase since September 2009 | |